COVID-19 UPDATE
Updated September 3, 2021
We are thrilled that we will be able to see fans in person at Rose City Comic Con 2021. It's been far too long, and we can't wait to welcome everyone home.
Rest assured, the health and safety of all our fans, exhibitors, guests, and staff is and will always be our top priority at Rose City Comic Con and all LeftField Media events. We are following CDC as well as state and county guidelines, and at present, these are the COVID-19 precautions we and everyone who attends the show are required to undertake in order to promote a safe experience.
Please keep in mind that we are constantly reviewing and reevaluating precautions and protocols as they relate to the current COVID-19 situation which continues to change rapidly. These precautions are mandated by Metro and the OCC and are as of this moment in time. We encourage you to revisit this page prior to traveling to the show.
Proof of Vaccination or Negative COVID-19 Test
Documentation only needs to be shown once, upon your first time entering the show. Everyone attending RCCC 12 years of age or older will need to show proof of full COVID-19 vaccination with vaccines approved or authorized by the FDA or WHO. For avoidance of doubt, people are considered fully vaccinated two weeks after their second dose in a two-dose series, such as the Pfizer or Moderna vaccines, or two weeks after a single-dose vaccine, such as Johnson & Johnson's vaccine. In addition to your proof of vaccination, you must show a government-issued ID with the same name as your COVID documentation.
Proof of vaccination accepted includes the following (physical document, photocopy or digital image on your smartphone will be accepted, must include attendee name and applicable dates):
Vaccination Cards
Vaccination Records
Official immunization record from outside Oregon or the US
For those who are unvaccinated, proof of a negative PCR or antigen COVID-19 test is required. Children 11 years of age or younger are exempt from having to get a negative rapid antigen or PCR COVID-19 test. Tests must be taken within 72 hours of your arrival at the event (if attending multiple days, it's required on your first day of entry).
The following are acceptable as proof of a negative COVID-19 test:
A digital photo of negative COVID-19 test results that includes the date of the test and name of attendee.
A printed copy of negative COVID-19 test results that includes the date of the test and name of attendee.
A screenshot of in app or email results of a negative COVID-19 test that includes the test and name of attendee.
Masks
Multnomah County requires masking in all indoor public settings, regardless of vaccination status. Per Rose City Comic Con regulations, everyone over the age of 5 who attends is required to wear a CDC approved face covering while at the show. Face coverings must cover both nose and mouth. A face shield is not a CDC approved substitute for a mask, and can only be used in limited, approved, and appropriate circumstances.
Face coverings can be removed when eating in designated food court areas and by panelists while socially distanced on stage, but face coverings must be worn at all other times at RCCC.
Social Distancing
This year's show has been physically designed with more space to promote distancing between attendees of different social circles. Wherever you can, please leave distance between yourself and others, and avoid physical contact like hugs, handshakes, and high fives when interacting with others.
Hygiene and Sanitization
Throughout the convention center there will be additional measures taken to support a safe environment. This includes precautions like enhanced cleaning procedures and additional sanitation stations throughout the building. We ask that all attendees sanitize and/or wash their hands as often as possible.
General Wellness
We ask that all attendees self-evaluate prior to coming to the show in order to protect others at the event. If you are experiencing COVID-19 symptoms, or have been in close contact with someone who has had COVID-19 in the 14 days prior to the event, please do not enter the convention center.
As COVID-19 news changes rapidly, we recommend you subscribe to our newsletter and follow us on social media (Facebook / Instagram / Twitter) to be the first to receive new information. If you have any questions, please reach out to us at info@rosecitycomiccon.com.
FREQUENTLY ASKED QUESTIONS
OREGON CONVENTION CENTER
GBAC Star Accreditation
The Oregon Convention Center has obtained the Global Biorisk Advisory Council
(GBAC) Star Accreditation. The GBAC STAR Facility Accreditation Program
is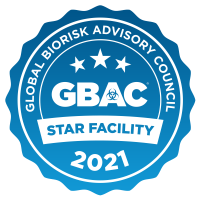 performance-based and designed to help facilities establish a comprehensive system of cleaning, disinfection, and infectious disease prevention for staff and venues.
To achieve GBAC STAR™ accreditation, the Oregon Convention Center was required to demonstrate compliance with the program's 20 core elements, which range from standard operating procedures and risk assessment strategies to personal protective equipment and emergency preparedness and response measures.
Learn more about GBAC STAR accreditation at www.gbac.org.
Helpful Links