ROSE CITY COMIC CON PASSPORT PROGRAM
The Rose City Comic Con Passport Program is back for our 10th Edition!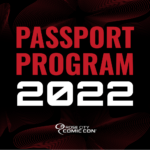 Show your Rose City Comic Con badge at select businesses in the Portland area to get some sweet discounts and deals in the month leading up to the event! You must show your physical badge to take advantage.
All offers are valid from Wednesday, August 10, 2022 to Sunday, September 11, 2022.
PARTICIPATING LOCATIONS AND OFFERS
BOOKS AND COMICS

FOOD AND DRINKS
Cascade Brewing Barrel House – Get 20% off your entire purchase! (offer not valid on sale items)
Dandelion Teahouse & Apothecary – Get $1 off any tea or tea latte! (valid in-store only)
Legacy Coffee Company – With the purchase of a drink, you'll get to roll the "members only" custom 20 sided die to find out what your next discount will be—even if you're not a member! Even better, badge holders will get to roll for drinks AND food! (Normally reserved for drinks only.) Already have a die or want to purchase one? You'll get to roll advantage for a higher discount!

Retro Game Bar – Get FREE gameplay! (21+)
Sibeiho Taste of Singapore – Crafted in Oregon! Get 10% off any Sibeiho condiments. (valid at NW 23rd Ave location only)
Speed-o Cappuccino – Get a FREE PRETTY B!TCH LEMONADE with purchase of entry to The Streetz! (Queer Strip Night 8/26 @ Rainbow City 301 NW 4th Ave) Valid 8/26 ONLY***
Starbucks at Grand and Lloyd – Secret Menu Item! Pokemon Pikachu Frappucino! Order as: Blended Paradise Drink, add White Mocha, Strawberry Puree, Whip Cream and Cookie Crumbles.
Wyrd Leatherworks and Meadery – Get 15% off all Wyrd Leather and Mead products! (offer valid on Wyrd's items only, does not include artists on consignment)
COOL STUFF