TRAVEL
Rose City Comic Con takes place annually at the Oregon Convention Center located at 777 NE Martin Luther King Jr Blvd, Portland, OR 97232.
Just 8 miles from Portland International Airport (PDX), visitors can access the Oregon Convention Center (OCC) via Interstate 5 North from Exit 302A–Rose Quarter, or from Interstate 84 West Exit 1–Lloyd Boulevard.
Stay In An Official Hotel
The official travel planner for Rose City Comic Con is Group Travel Associates. Please e-mail info@gtameetings for more details on hotel deals or give them a call at 1-805-496-1251.
Parking at the Convention Center
Onsite parking is provided in the convention center's underground garage. You may enter the garage through either the NE Lloyd Boulevard (P1) or NE First Avenue (P2) entrances. Clearance on the P1 Level is 7 feet; clearance on the P2 Level is 9 feet. There are a total of 800 spaces. Garage generally opens daily at 6 a.m. The garage does not accommodate RVs, campers, trucks with trailers, and similar oversized vehicles.​ Overnight parking is prohibited.
Please allow for ample time to park. The garage can reach capacity on days with busy event schedules and area traffic may impact your arrival and departure times. On these days we recommend using public or commercial transportation. Alternative transit information is provided below. The Oregon Convention Center does not guarantee parking availability. Availability is on a first-come, first-served basis.
Additionally, there are 566 metered parking spaces within three blocks of the OCC and there are several privately operated parking garages/lots in the area surrounding the convention center. Please be aware that some locations may not be open at certain times and availability is based upon demand.
The MODA Center has 2,000 spaces available each day. The furthest MODA Lot is .6 miles from OCC.
MODA's parking addresses are:
115 N. Weidler Street
1 N. Center Court Street
Benton Lot at N. Broadway & N. Benton Ave
Other Lots Nearby (Prices Vary)
Liberty Centre Garage 650 NE Holladay St (.2 miles from OCC) 575 spaces
Diamond Lot 150 NE Lloyd Blvd (.2 miles from OCC) 84 spaces
NE 7th & Irving Garage 670 NE 7th Ave (.1 mile from OCC) 100 spaces
Hoyt Lot 429 NE Hoyt St (.1 miles from OCC) 37 spaces
NE Grand & NE Oregon (Across the street from OCC) 21 spaces
Doubletree Hotel (.5 miles from OCC) public parking is $5.50 per HOUR
Lloyd Center Parking Lot 1232 NE 6th Ave (.3 miles from OCC)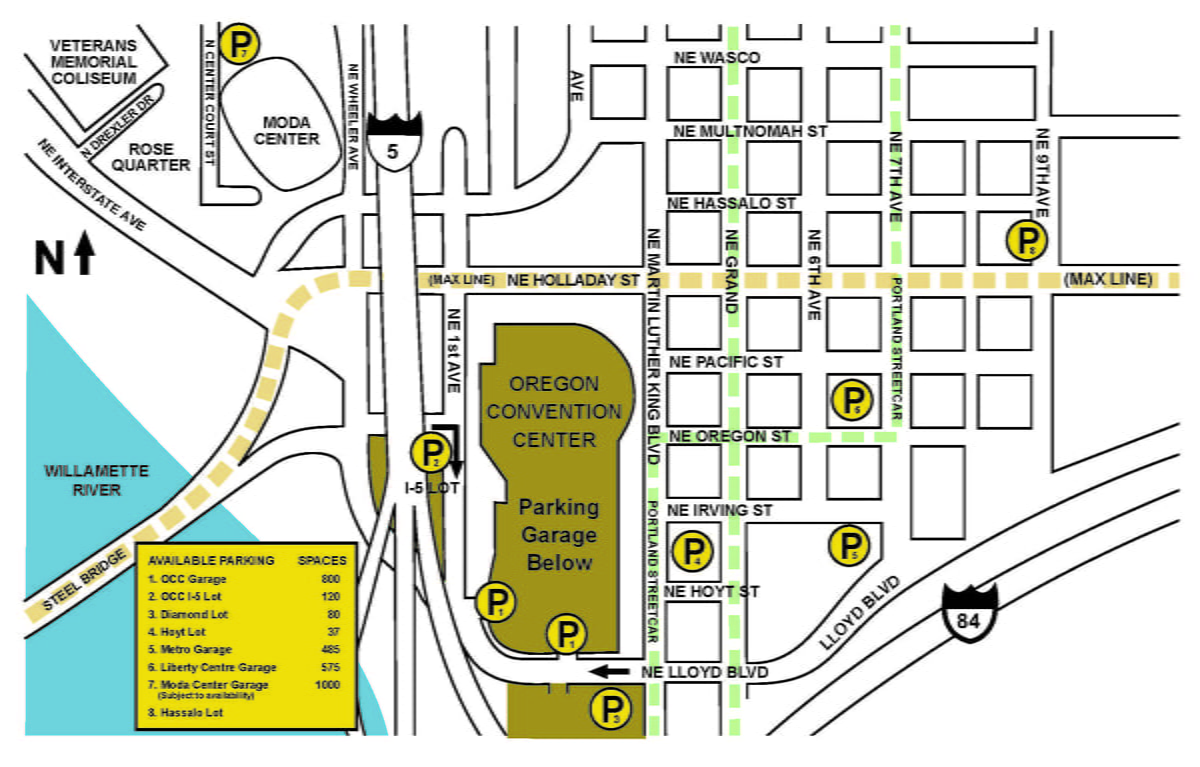 General Driving Directions
Other Transportation Information
TRIMET – FREE PASSES AVAILABLE ON SITE
Portland's TriMet MAX light rail stops 300 times a day at our front door, connecting riders to downtown, surrounding neighborhoods, the Oregon Zoo, and Portland International Airport. Portland Streetcar's Central Loop stops at the Oregon Convention Center MLK Lobby entrance every 15 minutes. Also, at the MLK lobby entrance, TriMet's Bus Line No. 6 provides access to downtown stops and outlining areas.
We will have a limited number of complimentary TriMet passes available at the Info Booth in the lobby across from Registration.
FOOD NEAR THE CONVENTION CENTER
Need a snack break to recharge? Show off your best cosplay around town with this collection of local restaurants near the Oregon Convention Center, carefully curated by the Yelp Portland Community team. From sports bars, sushi, pizza, fancy drinks to rooftop dining to dive bars, there's something for every vibe within a 20-minute walk of Rose City Comic Con!