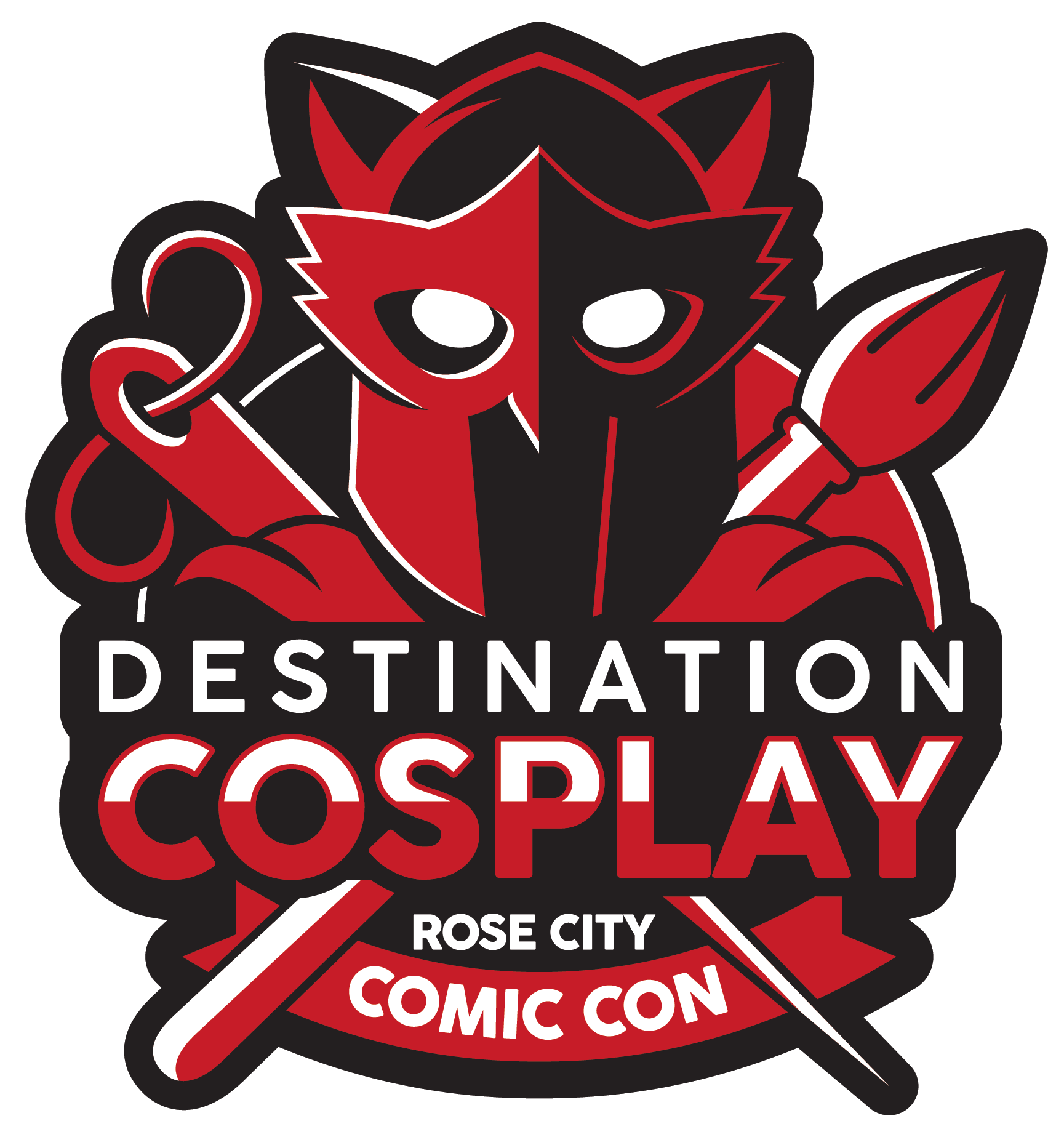 Cosplayers! We're excited to announce the return of Rose City Comic Con's cosplay-centric show feature, Destination Cosplay! If you're a cosplayer, or if you love and appreciate cosplay, then Destination Cosplay is where you want to be, what you want to see, and how you want to enjoy your RCCC!
Whether you're a total beginner, somewhat experienced, or an award-winning professional cosplayer, there's something for you at Destination Cosplay. But Destination Cosplay is much more than just a location in the B Meeting Rooms, it's a fully programmed track of Cosplay Panels and Demos in D137-140, as well as Cosplay Meetups in B117-119.
Destination Cosplay Area Features
Cosplay Changing – Room D134
Destination Cosplay at Rose City Comic Con is your ultimate haven for all things cosplay. With dedicated areas for cosplay repair, you can ensure your costume stays flawless throughout the event. Special guest appearances by our Cosplay Guests offer a chance to learn from the best, while Cosplay Fan Groups foster a sense of camaraderie among cosplayers. Plus don't miss out on fandom-focused Cosplay Meetups, led by passionate cosplayers from the community. From crafting tips to socializing with fellow cosplayers, Destination Cosplay is the heart of cosplay culture at Rose City Comic Con.
Cosplay Meetups and Movement Based Programming
Rose City Comic Con offers an array of fun, fandom-focused Cosplay Meetups that truly immerse fans in their favorite universes. Meetup with like-minded enthusiasts to connect and celebrate your shared passions. From Doctor Who to Star Wars, Barbie to Star Trek, and even meetups for 50+ Nerds, there is something for everyfan. Our Movement based programming is also happening in this room, so bust a move by learning how to do Court Dancing,  Medieval Dancing, LARP, and even Lightsaber Training.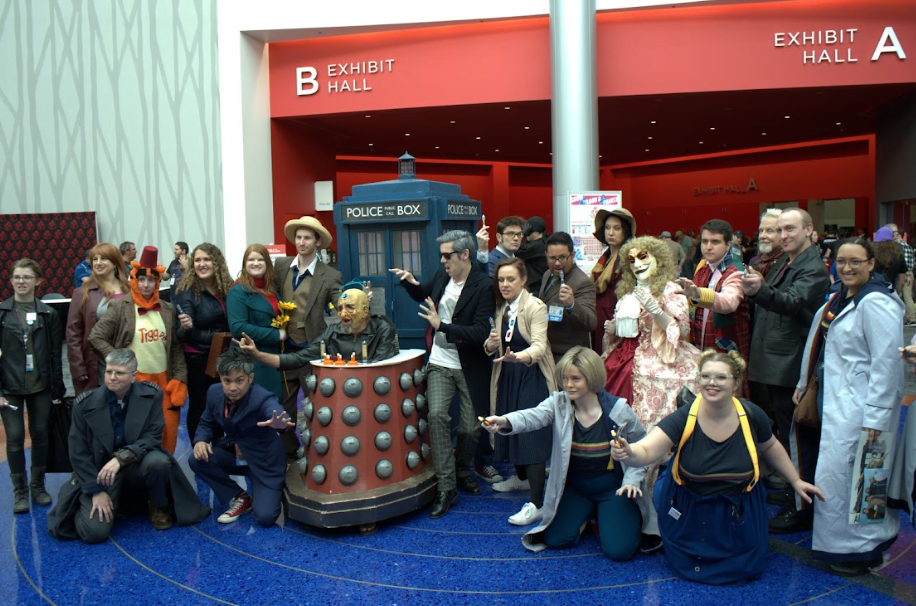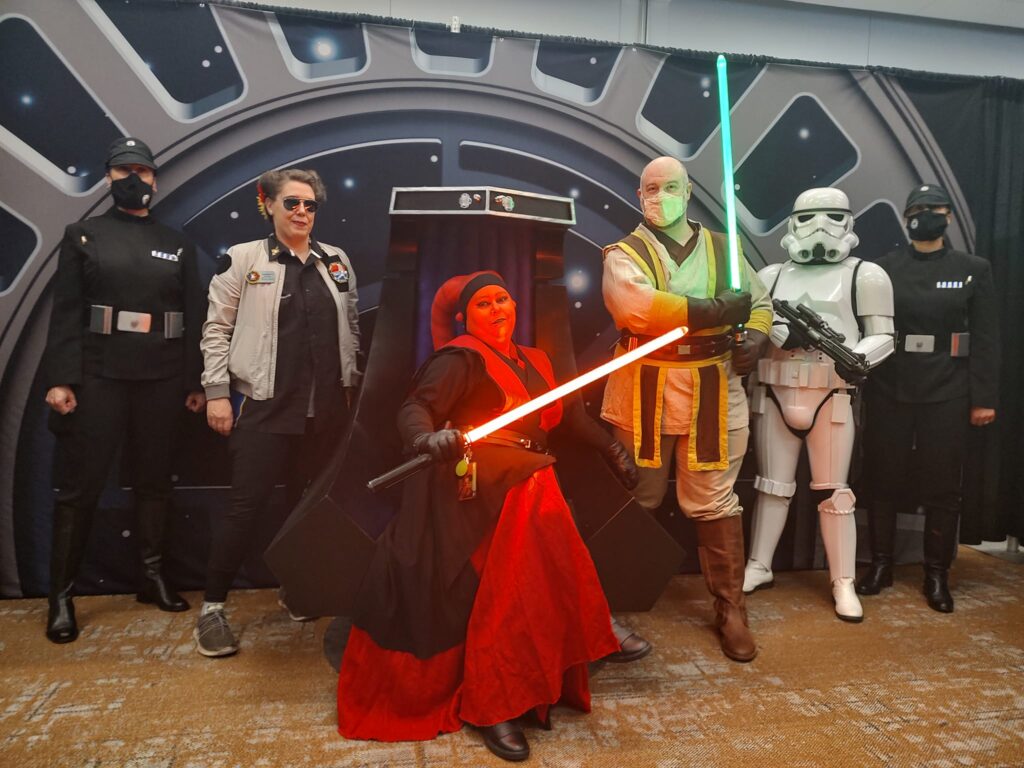 Star Wars Fan Experience
Imagine this – over 3,000 square feet of pure Star Wars magic in Destination Cosplay. That's exactly what fans can expect when they enter the Star Wars Fan Experience. Located in B113-116, join Star Wars Fan Clubs as they transport you into the worlds of Star Wars.
Cosplay Guests and Cosplay Fan Groups
Bump elbows with cosplay royalty and say hello to our friendly cosplay groups! Whether you're looking to find a new group of dedicated cosplayers to mingle with on the regular, want to get some tips on the crafting behind cosplay, or just looking to make a new friend, this is your space to mix and mingle with cosplayers of all levels, backgrounds, and skill sets. Get your cosplay on! Your next cosplay bestie awaits…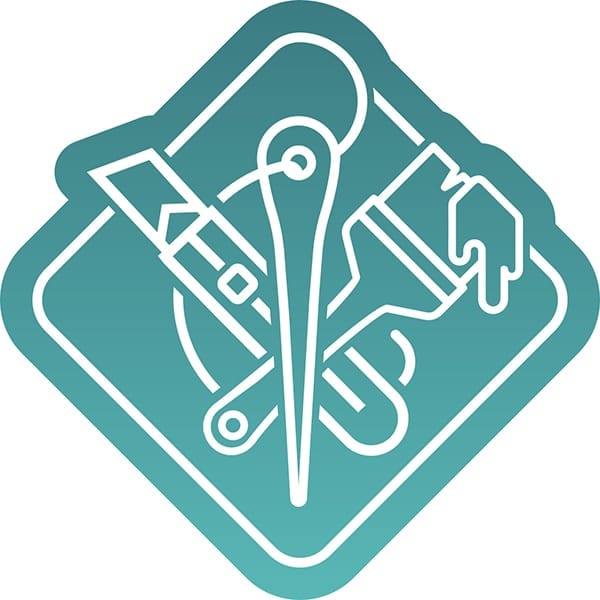 Room B111-112
The Pacific Northwest Guild of Cosplayers presents a fun photo experience! Feeling a little fruity? Making sure to stop by the Pacific Northwest Guild of Cosplayers booth  to take photos in the Fruit Stand! Celebrating all things queer/LGBTQIA+, the Guild booth will be turned into a fun and fruity photo op and that welcome to all.
Room B111-112
Eli Ebberts will have a selection of 4×5 prints, cosplay related stickers, and custom signed and decorated polaroids for sale. Eli will also have at least one costume on display which is certain to be mind blowing to fans! Want to see beautiful and delicate live art being made on the spot? Don't miss Eli as she does live Goldwork embroidery demonstrations throughout the event. Eli will be hosting the Kids Costume Parade on Saturday and Sunday at noon in Rose City Jr.'s Movement Zone.
Room B111-112
VivSai would love for you to stop by to meet her. There will be photos prints of her cosplays and art of her cosplay that is available as stickers, keychains, pins, phone grip holders, tote bags, con coolers and buttons all available for purchase. Is there a particular cosplay she has created that you really like? Come by and talk to her about it and pick up a signed print. Plus Viv has been working on something special! A brand new cosplay of her original design of Viera Dragoon print that is available for the first time at RCCC. VivSai is a Guest Judge of the RCCC Cosplay Competition which will take place on Saturday at 7:30 PM on the Main Stage and she will be participating in a panel titled "World of Worblas" on Sunday at 12:30 PM in Room D137-140.
Room B111-112
WexyLex will be joining the Cosplay Guests in Destination Cosplay! There you can get a signed headshot, and photos with WexyLex herself! You can also snap a picture with the last monster suit she will have on display. Fans will be able to browse costume parts and props from past costumes on display, along with photos of the finished costume nearby so you can see what the whole costume looks like. WexyLex will also be showcasing costume heads, a giant shield, dog armor, and costumed mannequins. She will also have a few viewfinders with image reels of her past work for fans to rotate through. Don't miss WexyLex's booth! WexyLex is also a Guest Judge of the RCCC Cosplay Competition which will take place on Saturday at 7:30 PM on the Main Stage.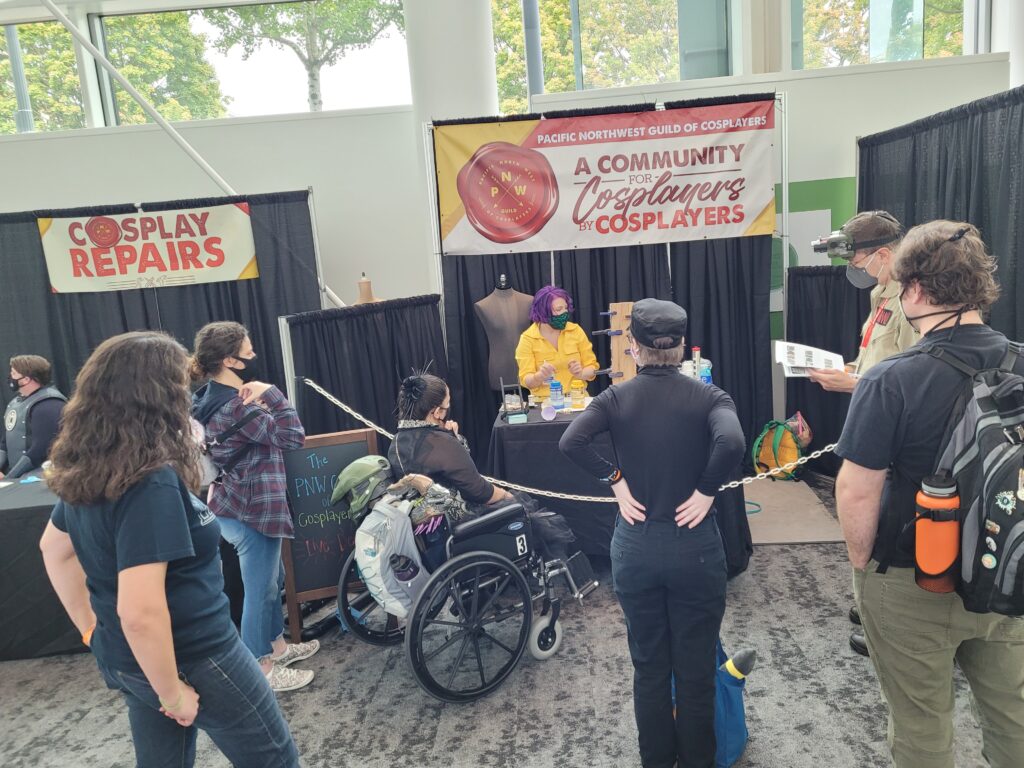 Cosplay Repair, powered by the PNW Guild of Cosplayers
From a safety pin to a fully sewn seam, The Pacific Northwest Guild of Cosplayers has you covered. Stop by and have your cosplay repaired by the cosplayer repair team. The Guild is excited to provide help assisting you with any costumed or non-costumed mishaps that may happen.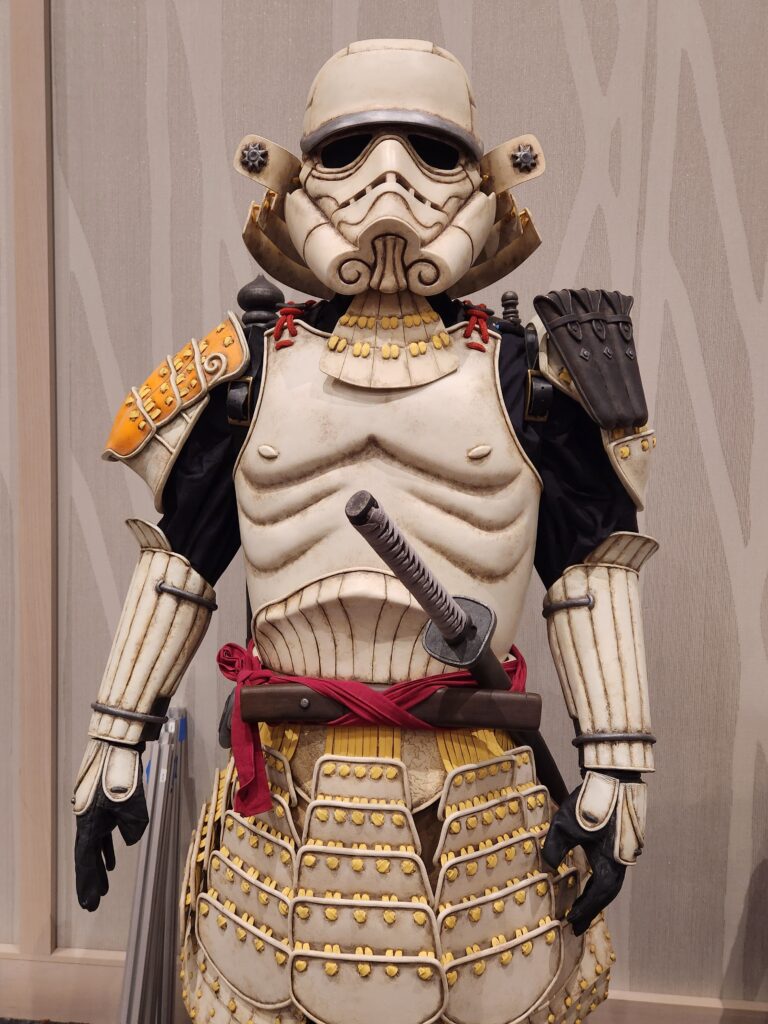 Cosplay Exhibition, powered by the PNW Guild of Cosplayers
PNW Guild of Cosplayers are proud to showcase amazing cosplays from talented humans. Come gaze in wonder at the hard work your cosplay community is capable of, and get inspired. Who knows, one day that could be you! From humble costume beginnings to show stopping cosplays, We aim to show works of art in costume form.
Free Cosplay Photos
A professional headshot or cosplay picture is the perfect way to snaz up your Instagram or cosplay portfolio! A team of passionate photographers, cosplayers, and pop-culture fanatics looking to give back to the community they love! We at Mahou Photo aim to provide high quality studio photography for free to event attendees. Stop by Booth #244 to find out about getting your free cosplay photo taken!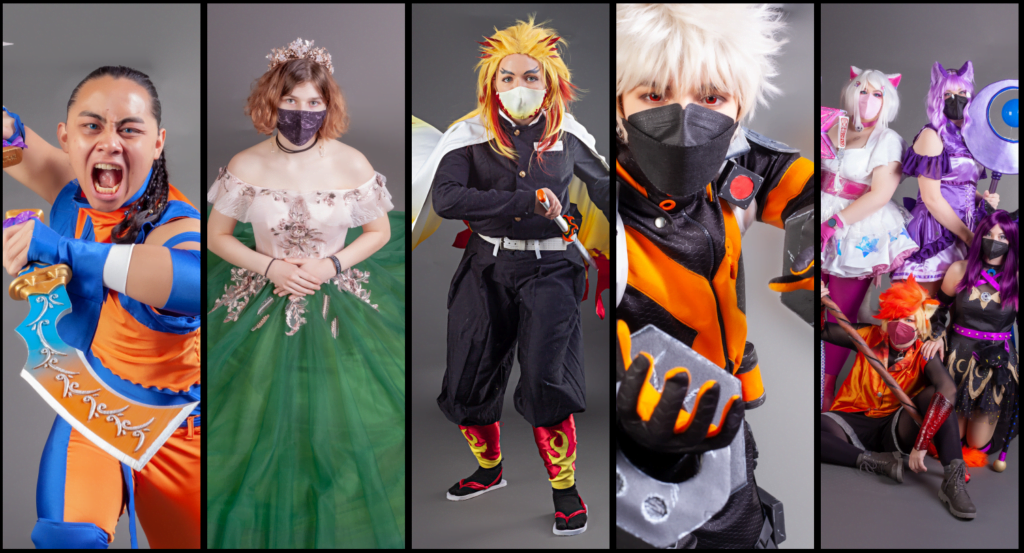 Destination Cosplay Programming Highlights
Rose City Comic Con Cosplay Competition
Saturday | 7:30 PM – 9:30 PM | Main Stage
Rose City Comic Con's most popular event is back again, and this year it's bigger and better than ever. Our 2023 Cosplay Competition will be hosted by DJ Aussie Dave and Level Up Leroy, with voice over support from Adam McArthur, voice actor know for Jujutsu Kaisen and Star vs. the Forces of Evil. Our incredible Cosplay Guest Judges, WexyLex, VivSai, and Black Bettie Cosplay, have put in the hours during prejudging and are ready to make their final determinations.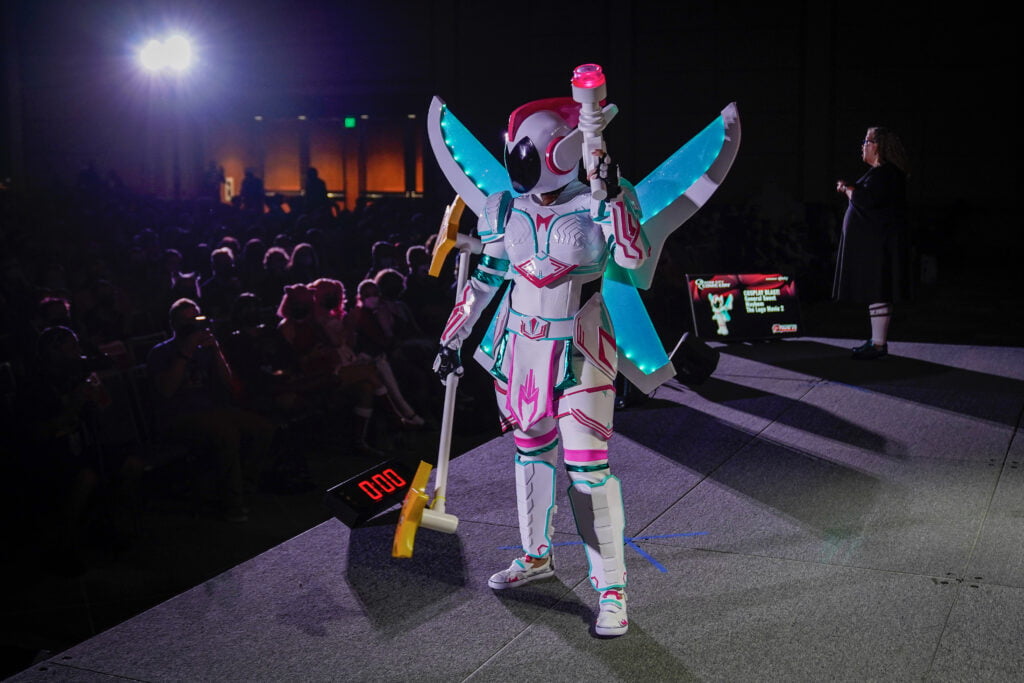 See the biggest and best in cosplay craftsmanship, as cosplayers of all skill levels and talents grace our Main Stage with their stunning handcrafted costumes. Who will excite the judge's with their electric stage presence and be awarded Judge's Choice? Who will take home the highly coveted Best in Show trophy, designed by Plexi Cosplay and Hoku Props? Don't miss it! Sponsored by: CUT/SEW, Oliso, Famore Cutlery, We Love Colors,  Angelus Paints, Arda Wigs and Bokksu
Past Destination Cosplay Highlights