Ready to grace our Main Stage with a gorgeous handcrafted cosplay and show us what you've got in Rose City Comic Con's Cosplay Competition? Incredible handmade costumes spanning the worlds of comics, movies, TV, web series, anime, books, and video games – as well as original characters inspired by these themes – will be center stage during Rose City Comic Con's Cosplay Competition! This incredible 2-hour performance on Saturday night of Rose City Comic Con highlights creativity, craftsmanship, charisma, and of course, cosplay.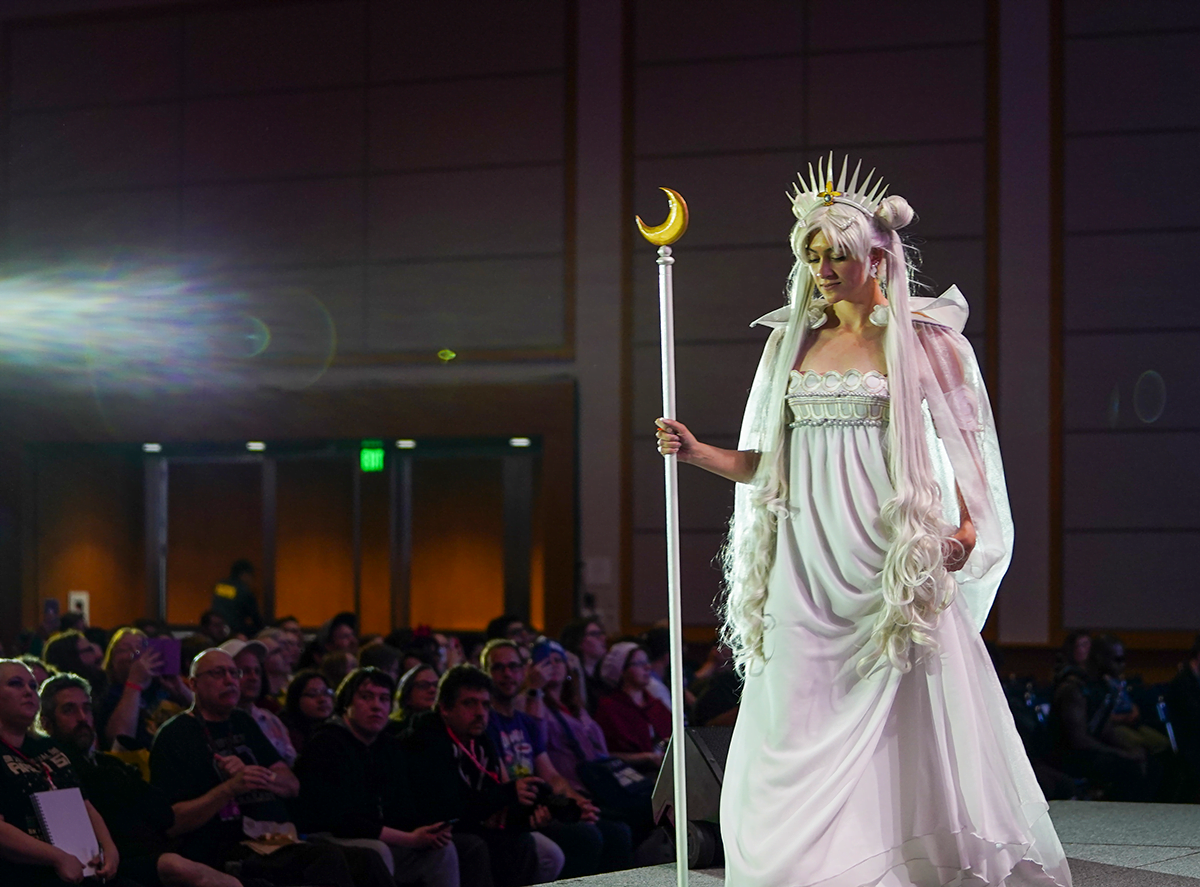 Rose City Comic Con's Cosplay Competition is happening Saturday, September 10, 2022 on the Main Stage!
Applications close Thursday, August 11, 2022 at 5:00 PM PT!
How does Rose City Comic Con's Cosplay Competition work?
All contestants will be judged on the quality of their costume as well as their stage presence – so submit your most amazing handmade cosplay, and be prepared to ham it up on stage! Each contestant will go on stage individually (or together if part of a group), and strike two or three awesome poses, as our emcee reads the entrant's cosplay description, and then the contestant will exit. No speaking or individualization of music is allowed during your performance so make sure to say it all with your body language! ALL COSTUME COMPETITION ENTRANTS MUST PRE-REGISTER VIA THE BELOW APPLICATION. THERE IS NO ONSITE REGISTRATION. For more info, please email cosplay@leftfieldmedia.com.
So what are the categories?
The competition is split into four categories, and you will only be competing in one of these categories:
Youth – Ages 11 – 15
Beginner – Anyone who has never won a major costume contest award
Intermediate – Anyone who has won between one to three major awards
Advanced – Anyone who has won four or more major awards
Final category placement will be at the discretion of the judges and competition organizers.
What are the rules and requirements of Rose City Comic Con's Cosplay Competition?
Contestants must be 11 years of age or older to compete. Contestants under 11 may enter our costume parade in Rose City Jr.
Our Cosplay Competition requires handmade, original costumes. Sorry, but store bought costumes cannot be entered into the competition! The costume must be of original construction or show significant modification to the original materials. At least 75% of your costume must not have been purchased.
All Cosplay Competition competitors must be Rose City Comic Con attendees, and badges will be checked before competing. Approved competitors will receive a comp 3-day badge to Rose City Comic Con or have an already purchased badge refunded in full.
If your cosplay has previously won in competition at Rose City Comic Con's Cosplay Competition, it cannot be re-entered. Please email us at cosplay@leftfieldmedia.com if you are unsure about entering your cosplay.
By entering Rose City Comic Con's Cosplay Competition, you agree to allow us to reuse photos you provide for marketing purposes and promotion as well as future events and will be asked to sign a release form if your application is accepted.
Here are some other important things to keep in mind when applying and creating your cosplay!
You can apply as many times as you would like with as many costumes as you would like, but please note that only one costume can be accepted into the competition per person.
In the application, you will be asked for a 100-word cosplay description to be read aloud. This may describe the details of the cosplay or provide a story about the character being portrayed. You may offer details about the construction process, materials, number of work hours, or anything that might impress the judges and fans. We reserve the right to edit introduction material for time and content.
In the application, you will be asked to provide photos of your cosplay. In-progress images are okay, but please remember that the quality of this image is a part of how we judge your application! A good quality image can absolutely help your application to be approved. You must also submit a reference color photo of the character you are portraying if you wish for accuracy to be taken into account during your judging if the judges are not familiar with the character.
You are responsible for all expenses incurred in order to compete in Rose City Comic Con's Cosplay Competition.
Please note cosplays must comply with Rose City Comic Con's Cosplay and Costume Weapons Policies

.

Please note cosplays and performers must comply with Rose City Comic Con's Anti Harassment Policy. This means no profanity, hate speech, religious, political, or otherwise inflammatory messages are allowed.
And here's some things you'll need to know for the actual performance itself!
All contestants must be available for pre-judging Saturday afternoon before the show. The time and location will be disclosed to you upon your application's acceptance. The entire pre-judging process takes about 2-4 hours for all contestants but you will only be needed for a portion of that time – maybe 15-20 minutes.
All contestants must arrive where the competition is being held at least one hour before our competition begins.
No specific character music, videos, or skits will be allowed during your performance or pre-judging.
You must be able to enter and exit the stage and maneuver freely in your costume without assistance unless medically necessary. We will also ask you about any accommodations you may need to compete successfully in the application process.
The deadline to apply to be in Rose City Comic Con's Cosplay Competition is Thursday, August 11, 2022 at 5:00 PM PT. Applicants will be notified of the status of their application by Thursday, August 18, 2022. After the deadline new applications will not be accepted, even if the form is still live.