RCCC Cosplay Competition 2023
Saturday | 7:30 PM – 9:30 PM | Main Stage
Rose City Comic Con's most popular event is back again, and this year it's bigger and better than ever. Our 2023 Cosplay Competition will be hosted by DJ Aussie Dave and Level Up Leroy, with voice over support from Adam McArthur, voice actor know for Jujutsu Kaisen and Star vs. the Forces of Evil. Our incredible Cosplay Guest Judges, WexyLex, VivSai, and Black Bettie Cosplay, have put in the hours during prejudging and are ready to make their final determinations.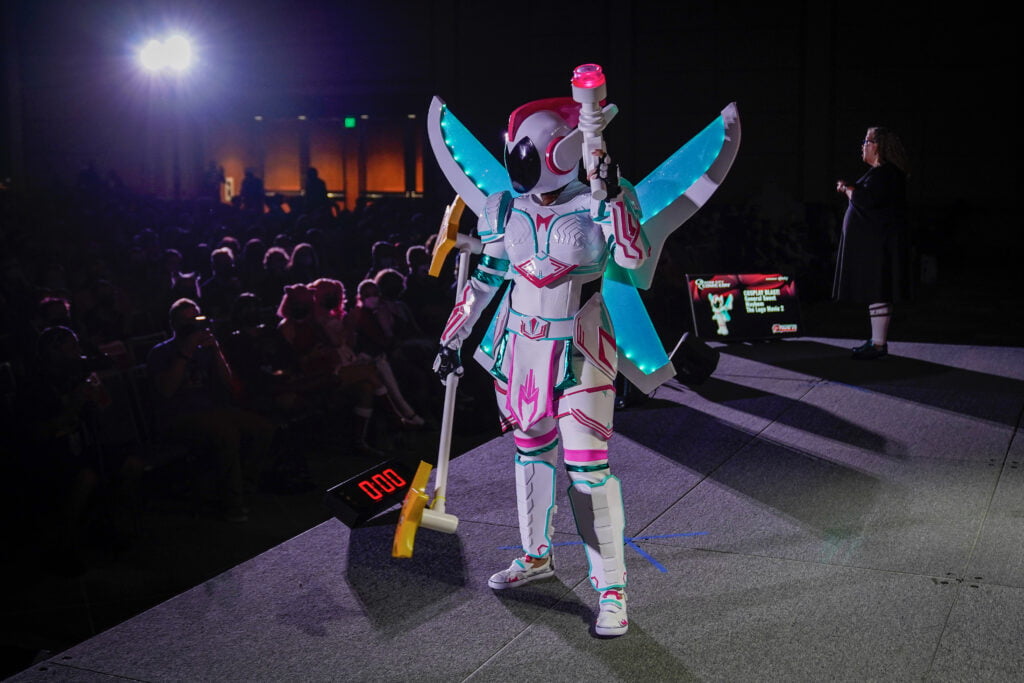 See the biggest and best in cosplay craftsmanship, as cosplayers of all skill levels and talents grace our Main Stage with their stunning handcrafted costumes. Who will excite the judge's with their electric stage presence and be awarded Judge's Choice? Who will take home the highly coveted Best in Show trophy, designed by Plexi Cosplay and Hoku Props? Don't miss it! Sponsored by: CUT/SEW, Oliso, Famore Cutlery, We Love Colors,  Angelus Paints, Arda Wigs and Bokksu
Best in Show Trophies designed by Plexi Cosplay and Hoku Props
New this year! We're excited to partner with Plexi Cosplay and Hoku Props in the design and production of our coveted Best in Show trophy. Cosplay awards created by respected professional cosplayers in the space? That's what our cosplay community is all about.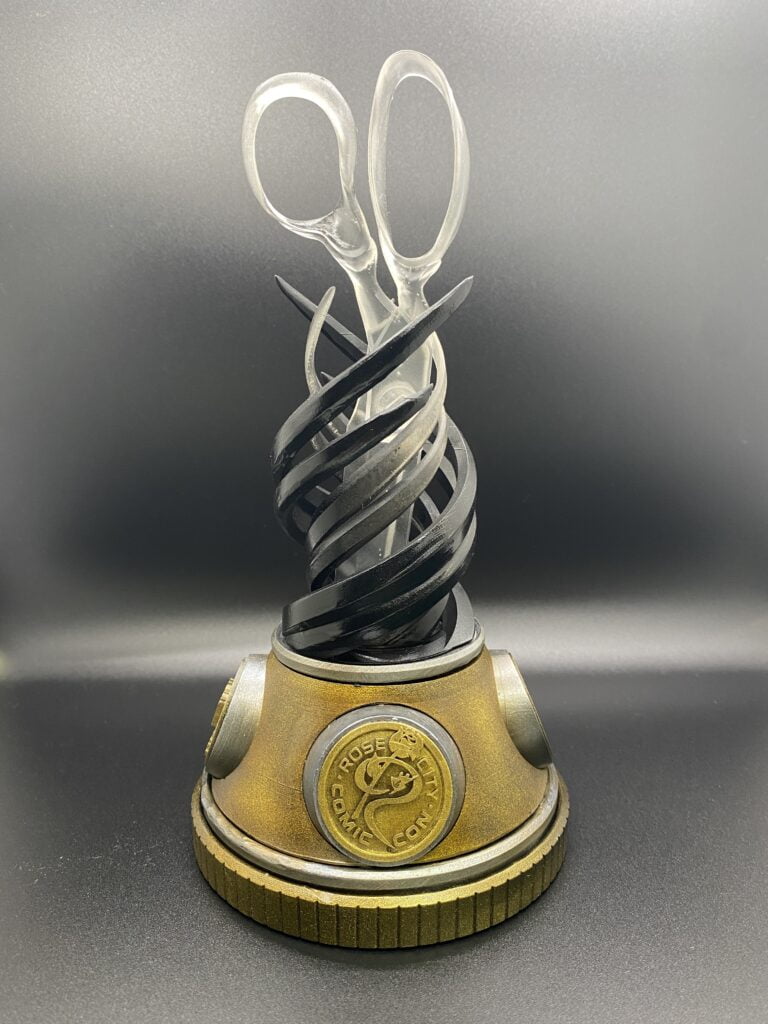 Awards
| Best Awards | Runners Up | Minor Awards |
| --- | --- | --- |
| Best in Show | Advanced Craftsmanship Runner Up | Best Stage Presence |
| Best Advanced Craftsmanship | Intermediate Craftsmanship Runner Up | Judge's Choice |
| Best Intermediate Craftsmanship | Beginner Craftsmanship Runner Up | |
| Best Beginner Craftsmanship | | |
| Best Kid's Cosplay | | |
Information for Competitors
How does Rose City Comic Con's Cosplay Competition work?
All contestants will be judged on the quality of their costume as well as their stage presence – so submit your most amazing handmade cosplay, and be prepared to ham it up on stage! Each contestant will go on stage individually (or together if part of a group), and strike two or three awesome poses, as our emcee reads the entrant's cosplay description, and then the contestant will exit. No speaking or individualization of music is allowed during your performance so make sure to say it all with your body language! ALL COSTUME COMPETITION ENTRANTS ARE STRONGLY ENCOURAGED TO PRE-REGISTER VIA THE BELOW APPLICATION. There may be a very limited number of onsite registration spots but this is not guaranteed. For more info, please email [email protected].
Rules and Requirements
What are the rules and requirements of Rose City Comic Con's Cosplay Competition?
Contestants must review Cosplay Contest Competitor Guideline document. Contestants must adhere to and abide by the Competitor Guidelines.
Contestants must be 11 years of age or older to compete. Contestants under 11 may enter our costume parade in Rose City Jr.
Our Cosplay Competition requires handmade, original costumes. Sorry, but store bought costumes cannot be entered into the competition! The costume must be of original construction or show significant modification to the original materials. At least 75% of your costume must not have been purchased.
All Cosplay Competition competitors must be Rose City Comic Con attendees, and badges will be checked before competing. Approved competitors will receive a comp 3-day badge to Rose City Comic Con.
If your cosplay has previously won in competition at Rose City Comic Con's Cosplay Competition or a major award in another cosplay or costume contest, it cannot be re-entered. Please email us at [email protected] if you are unsure about entering your cosplay.
By entering Rose City Comic Con's Cosplay Competition, you agree to allow us to reuse photos you provide for marketing purposes and promotion as well as future events and will be asked to sign a release form if your application is accepted.
For more information, please see our Cosplay Contest FAQ.
Here are some other important things to keep in mind when applying and creating your cosplay!
Please note that we do not consider applications on a first come, first served basis. All cosplays will be reviewed after the deadline passes, so please submit your application when you feel ready – getting it submitted early will not help your chances of being accepted. Likewise, submitting it the day of the deadline will not hurt your chances either.
You can apply as many times as you would like with as many costumes as you would like, but please note that only one costume can be accepted into the competition per person. The show director will notify you which cosplay is accepted.

In the application, you will be asked for facts about your cosplay that will be used to create a description to be read aloud. This may describe the details of the cosplay or provide a story about the character being portrayed. You may offer details about the construction process, materials, number of work hours, or anything that might impress the judges and fans. We reserve the right to edit introduction material for time and content.

In the application, you will be asked to provide photos of your cosplay. In-progress images are okay, but please remember that the quality of this image is a part of how we judge your application! A good quality image can absolutely help your application to be approved. Any applications without any photos of the cosplay will not be considered.
You must also submit a reference color photo of the character you are portraying if you wish for accuracy to be taken into account during your judging if the judges are not familiar with the character.
You are responsible for all expenses incurred in order to compete in Rose City Comic Con's Cosplay Competition.
Please note cosplays must comply with Rose City Comic Con's Cosplay and Costume Weapons Policies

.

Please note cosplays and performers must comply with Rose City Comic Con's Anti Harassment Policy and the Cosplay Contest Guidelines. This means no profanity, hate speech, religious, political, or otherwise inflammatory messages are allowed.
And here's some things you'll need to know for the actual stage show itself!
All contestants must be available for pre-judging Saturday before the show. The time and location will be disclosed to you upon your application's acceptance. The entire pre-judging process takes about 2-4 hours for all contestants. You will spend about 5-10 minutes with the contest staff and 3 minutes with the judges.
All contestants must participate in a rehearsal Saturday before the show. In general, plan to arrive where the competition is being held at least one to two hours before our competition begins.
No specific character music, videos, or skits will be allowed during your stage show or pre-judging.
You must be able to enter and exit the stage and maneuver freely in your costume without assistance unless medically necessary. We will also ask you about any accommodations you may need to compete successfully in the application process.
Categories
So what are the categories?
The competition is split into four categories, and you will only be competing in one of these categories:
Kids – Ages 11 – 15
Beginner – Anyone who has never won a major costume contest award
Intermediate – Anyone who has won between one to three major awards
Advanced – Anyone who has won four or more major awards
Final category placement will be at the discretion of the judges and competition organizers.
How to Enter
The deadline to apply to be in Rose City Comic Con's Cosplay Competition is Wednesday, August 16th, 2023 at 6:00 PM PST. Applicants will be notified of the status of their application by Friday, August 25th, 2023. After the deadline, new applications will not be accepted, even if the form is still live.
Cosplay Parade
If competing just isn't for you or you have a cosplay made by someone else, but you still want to show off how amazing you look to our audience, join us at the Cosplay Competition on Saturday, September 23rd for your moment on the stage.
Check in with a crew member at the entrance to the main stage for further instructions.

Paraders will line up backstage at 7pm on Saturday Saturday 23rd. The contest begins promptly at 7:30pm.

We'll accept the first 30 people in line to strut their stuff.

You can make 0% of your cosplay and still participate.