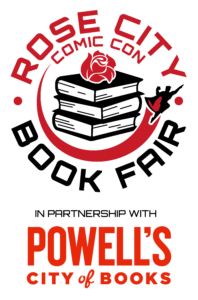 RCCC is for book lovers…
We all developed a lifelong appreciation for books from those rolling carts in our school gym, right? Well, allow us to bring you that same joy and nostalgia at the Rose City Comic Con Book Fair—now in partnership with the world's largest independent bookstore, Powell's Books!
Book Fair is a headquarters for lit lovers and is located both in the Exhibit Hall [where you can buy books and get them signed] and in our programming rooms [where you can hear view unique, thought-provoking panels]. Whether you're a book-devouring literary super fan, a modern-day Melville, or simply looking for your next read, you won't want to miss this experience!
More information about our Book Fair will be available here soon. Stay tuned!
2023 Book Fair Guests (So Far)
Curious what up-and-coming, independently published authors might be at Rose City Comic Con? Take a stroll down Author's Lane and connect with fresh faces from the world of science fiction, fantasy, YA, horror, and more. Venture into Artist Alley to find these authors, all labeled with table signage showing that they are a part of Author's Lane.
PAST BOOK FAIR HIGHLIGHTS
PAST CONTENT HIGHLIGHTS
September 9, 2022

Hosted the panel "Creative Worldbuilding in Fiction" ft. Amber Benson, Bethany C. Morrow, John Scalzi, and Robin Hobb

September 10, 2022

Hosted "Battle of the Nerds: The Ultimate Pop-Culture Trivia Game" between Amber Benson, Bethany C. Morrow, Josh Malerman and Wesley Chu

September 11, 2022

Terry Brooks moderated "Learning to Write Books" ft. Chelsea Cain, John Scalzi, Josh Malerman, and Robin Hobb
PAST GUEST HIGHLIGHTS
2022

Terry Brooks (Shannara Series, Landover Series)

2022

John Scalzi (Old Man's War Series, Lock In Series)

2022

Robin Hobb (The Farseer Trilogy, The Fitz And Fool Trilogy)

2022

Bethany C. Morrow (Mem, A Song Below Water)

2022

Brent Weeks (The Lightbanger Series, The Night Angel Trilogy)

2022

Wesley Chu (The Art of Prophecy, The Salvager)

2022

Josh Malerman (Bird Box, Daphne)