ROSE CITY COMIC CON BOOK FAIR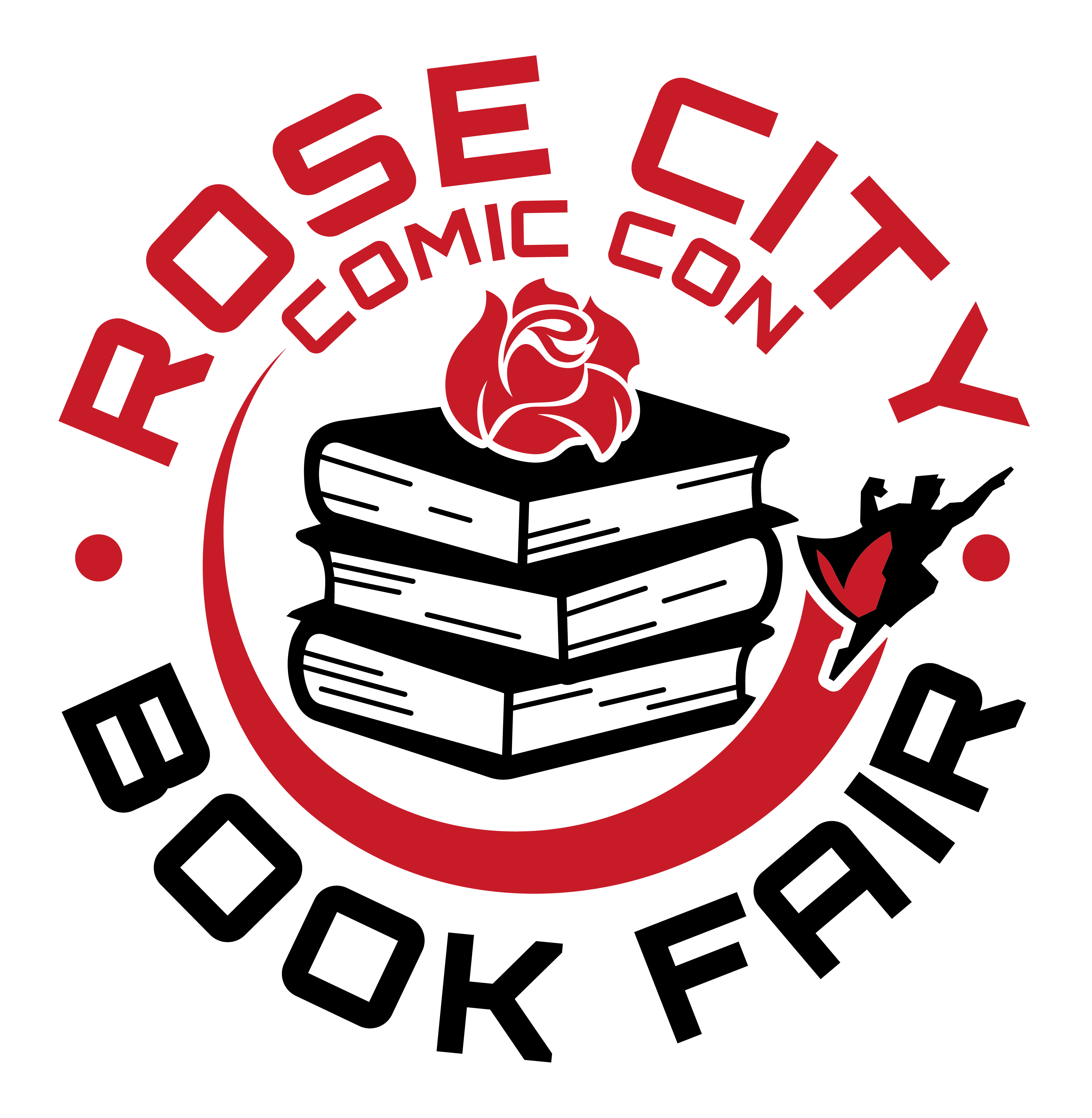 Our newest show feature – for book lovers, readers, and writers.
Face it, we all developed a lifelong appreciation and serious addiction to books at those Book Fairs in our school gym or local library, right? RCCC is bringing back the joy and nostalgia of glossy covers, precious paperbacks, and brightly bound new worlds. We can already smell that new book smell in the air!
Our Book Fair is both a place at Rose City Comic Con and special events and activities just for Book Lovers. Head to our Book Fair headquarters at our official bookseller, The Signed Page, on the Show Floor, where special events, meetups, and author signings will take place. Hear straight from your favorite authors during unique and thought-provoking panels & programming in our programming rooms, featuring your favorite authors. Whether you're a book devouring literary superfan, a modern-day Melville, or simply looking for your next read, your new home is in our Book Fair.
Looking to rub elbows with literary royalty? Don't miss your favorite SFF authors at Rose City Comic Con, participating in panels and special events, signings, and more!
OFFICIAL BOOKSELLER – THE SIGNED PAGE
The Signed Page is debuting as the official bookseller of Rose City Comic Con! The Signed Page was founded by Shawn Speakman in 2000 as a way to help New York Times bestselling author Terry Brooks sign and personalize books for fans who could not meet with him when he went on tour. Fans around the world use the service, getting signed US editions. From Japan to Italy to South Africa and Mexico, The Signed Page has helped thousands of fans in more than two dozen countries share a part of a writer's final work. We all love books. The Signed Page will continue to bring the best in signed and personalized books to you — the reader and collector.
Check out the Book Fair Special Events listed below to get a sneak peak of the Signings, Literary Fan Meetups and Recommendation Hours you can participate in at the booth all weekend long.

Panels & Signings: Each author will participate in a plethora of thought-provoking panels and roundtable discussions. Join them as they tackle such topics as "Creative Worldbuilding in Fiction," "The Wacky 'What Ifs?' of Writing," and "Size does matter: Short Fiction vs Novels." Plus, each author will head to The Signed Page Booth directly after each panel for an excusive signing, where you can purchase their book if you choose, and ask them to sign it right then!
Lit Lover's Meetups: Everyday of the show! Attention bookworms, sci-fi readers, and fantasy obsessed lit lovers! Don't miss the Lit Lover's Meetup at The Signed Page, the official RCCC Bookstore. Check out a fun and free bookmark making craftivity! Write your recommended reads on our interactive book-inspired walls! Make a new friend so you can compare your TBR piles! Make a bookmark, make a recommendation, and make a bookish friend all at The Signed Page as a part of the RCCC Book Fair. Keep calm, and read on.
Plus more special events to come! Stay tuned!