OFFICIAL 2023 MOBILE APP
The Rose City Comic Con Mobile App is your digital bestie for the most up-to-date information on guests, schedules, exhibitors, artists, panels, and family activities during Rose City Comic Con! There won't be a physical program guide, so we highly suggest you download the app to stay informed on what's what and who's where!
Use the app to:
Find your favorite exhibitors and guests! Get booth numbers, table numbers, and all the info about what your favorite comic creators and celebrities are doing at

RCCC

.
Never miss a panel! Set up reminders for events you don't want to miss.
Get the news! Access up-to-date information about our celebrity guests and show features.
See the maps! Plan your route and access our maps to see where everything is.
Play to win! Participate in the Fan Scan Scavenger Hunt.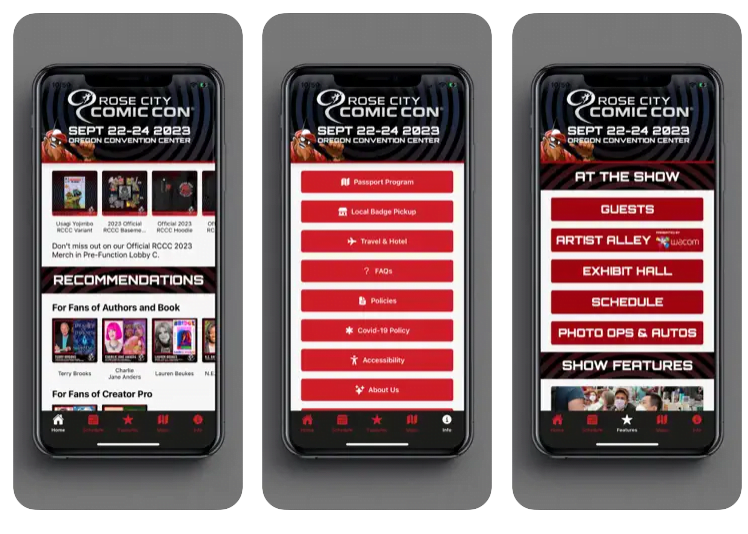 REGISTER FOR EVEN MORE FUN
When you Register within the Mobile App, there are lots of cool perks and experiences you can join in on!
Dave the Sasquatch and his party members have gotten lost around Rose City Comic Con! Their weekly game of Basements & Bigfoots has come to a halt and it's up to YOU to re-unify the party by finding all the players from their campaign. With their forces combined, they are the ultimate Squatch Squad ready to crawl any dungeon, battle any Owl Bear, and take down any gelatinous cube!
Roll for initiative and let the hunt begin! Seek out the below 5 Scavenger Hunt destinations across the Oregon Convention Center! At each destination is a sign with a QR code. Using the Fan Scan Scavenger Hunt section of our mobile app, scan the QR code to unlock the Badge associated with that location.
Scan the QR code at all five locations to find all 5 party members, and you'll earn a free piece of RCCC swag—available for pickup at the RCCC Merch Store in Pre-Function Lobby C!
Coming Soon
Coming Soon
Coming Soon
Coming Soon
Coming Soon
CURATE THE APP TO YOUR INTERESTS
When you register and tell us your interests, you'll get a much more personalized app experience.
Get curated recommendations based on your favorites features at Rose City Comic Con!
Categories include comics, cosplay, celebrities, tabletop gaming, and more!
Anime

Authors and books

Celebrities

Comics

Cosplay
Creator Pro

Kids and Family

Tabletop Gaming

TV/Movies

Video Gaming