10 Years of Rose City Comic Con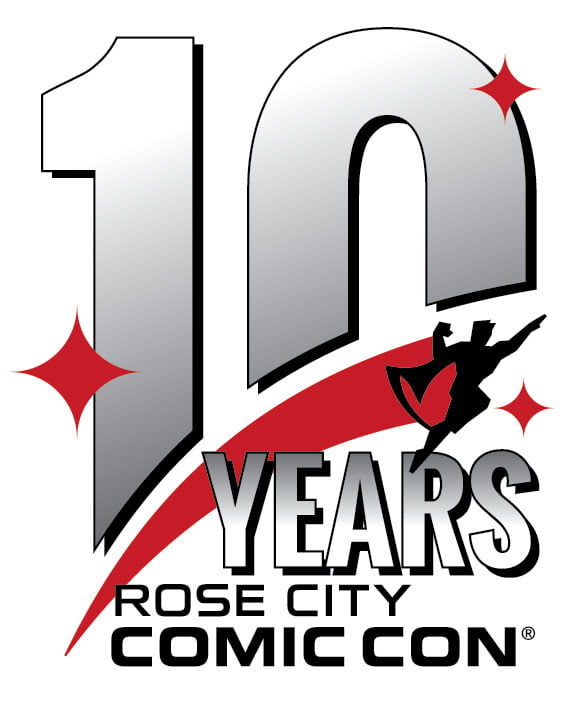 Wow, has it really been 10 years, Portland?
Rose City Comic Con has always been Portland's premiere pop culture event, made up of passionate artists and creators, talented celebrity guests, the gamut of exhibitors and vendors, and of course, our life blood, the RCCC fans.
Rose City Comic Con has a cherished legacy of being a fan-focused favorite event of Portlanders. It's home to geeks, families, cosplayers, gamers, comic book lovers, movie buffs, bookworms, and pop culture enthusiasts in the Pacific Northwest. This year, RCCC is celebrating it's 10th Edition.
Let's take a journey through 10 years.
ROSE CITY COMIC CON THEN VS NOW: BY THE NUMBERS
2012 Attendance
4,100 fans
2021 Attendance
40,000 people
2012 Location
DoubleTree by Hilton, 10,000 sq ft
2022 Location
Oregon Convention Center, 44,000 sq ft
2012 Dates
September 8-9, 2012
2022 Dates
September 9-11, 2022
Over 10 years, we've hosted at least…
FUN FACTS ABOUT RCCC 2012
Our very first after party was held Saturday night, Sept 8th at 7pm.

Join us in the Pacific Northwest Ballroom at the DoubleTree by Hilton for the Rose City Comic-Con's Mix and Mingle event! This is an all ages event featuring musical act The Doubleclicks, a costume contest, and other geeky activities with Geek in the City radio! Costs: Free entry for convention goers with a Saturday wrist band. $3 for anyone else who'd like to join the event.

Our very first Costume Contest had the following categories:

Best Male 12 and under
Best Female 12 and Under
Best Male over 12
Best Female over 12

And the following rules:
RCCC Costuming Rules: No functional weapons are allowed. DO NOT BRING REAL SWORDS, GUNS OR ANY TYPE OF AUTHENTIC WEAPON TO THE SHOW (I know you're thinking, "DUH". But seriously, don't do that.) – only props are allowed. Simulated or costume weapons are allowed as part of your costume. No projectile weapons will be allowed! All simulated or costume weapons are subject to inspection by security or convention staff at anytime during the event.
LOGO THEN VS NOW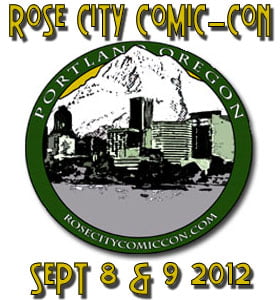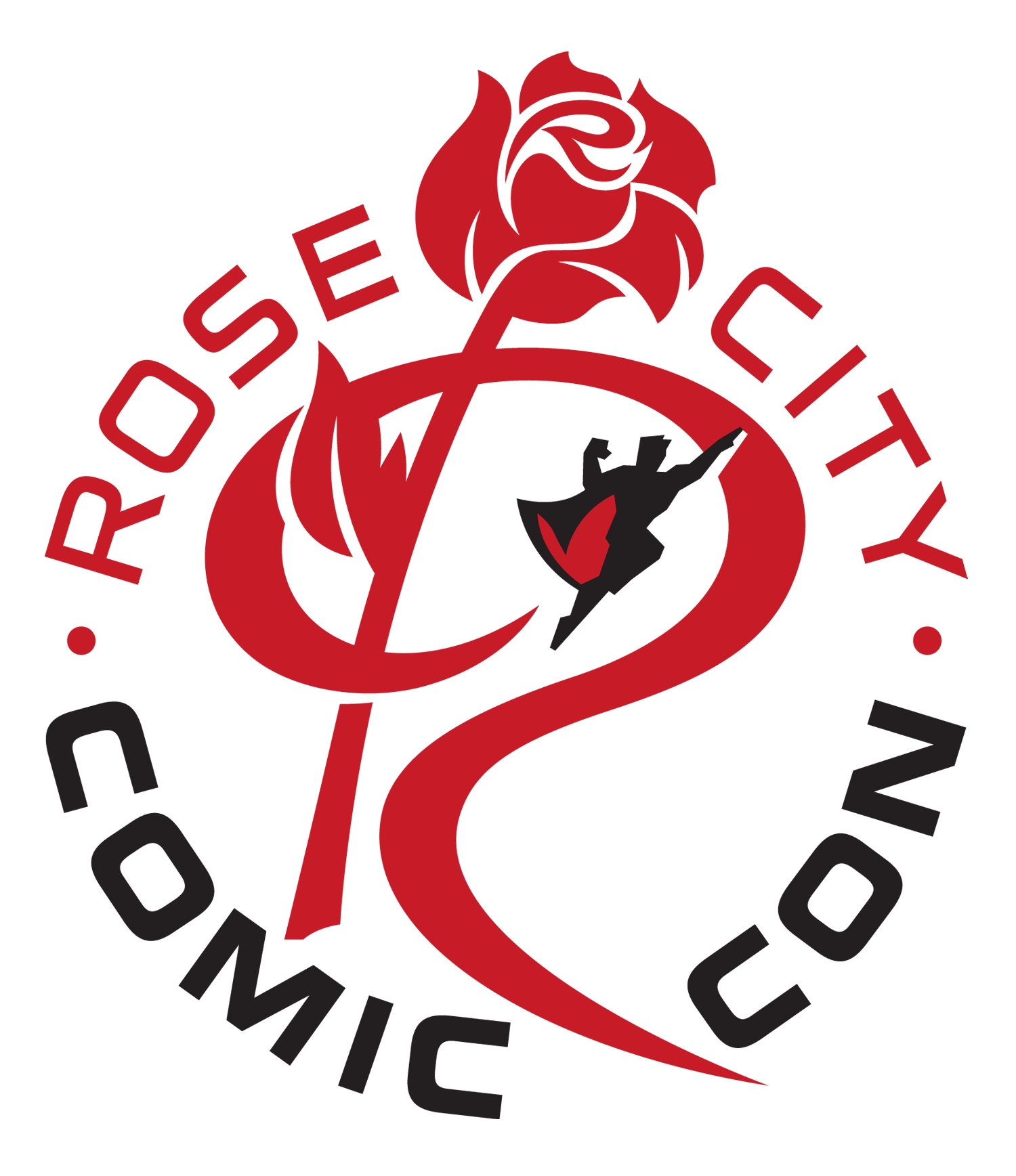 THE FLYER AND PROGRAM GUIDE THEN VS NOW
Ron Randall designed the original flyer and program guide for Rose City Comic Con 2012! What a talented guy. He'll be in Artist Alley during our 2022 show, so be sure to stop by his table!!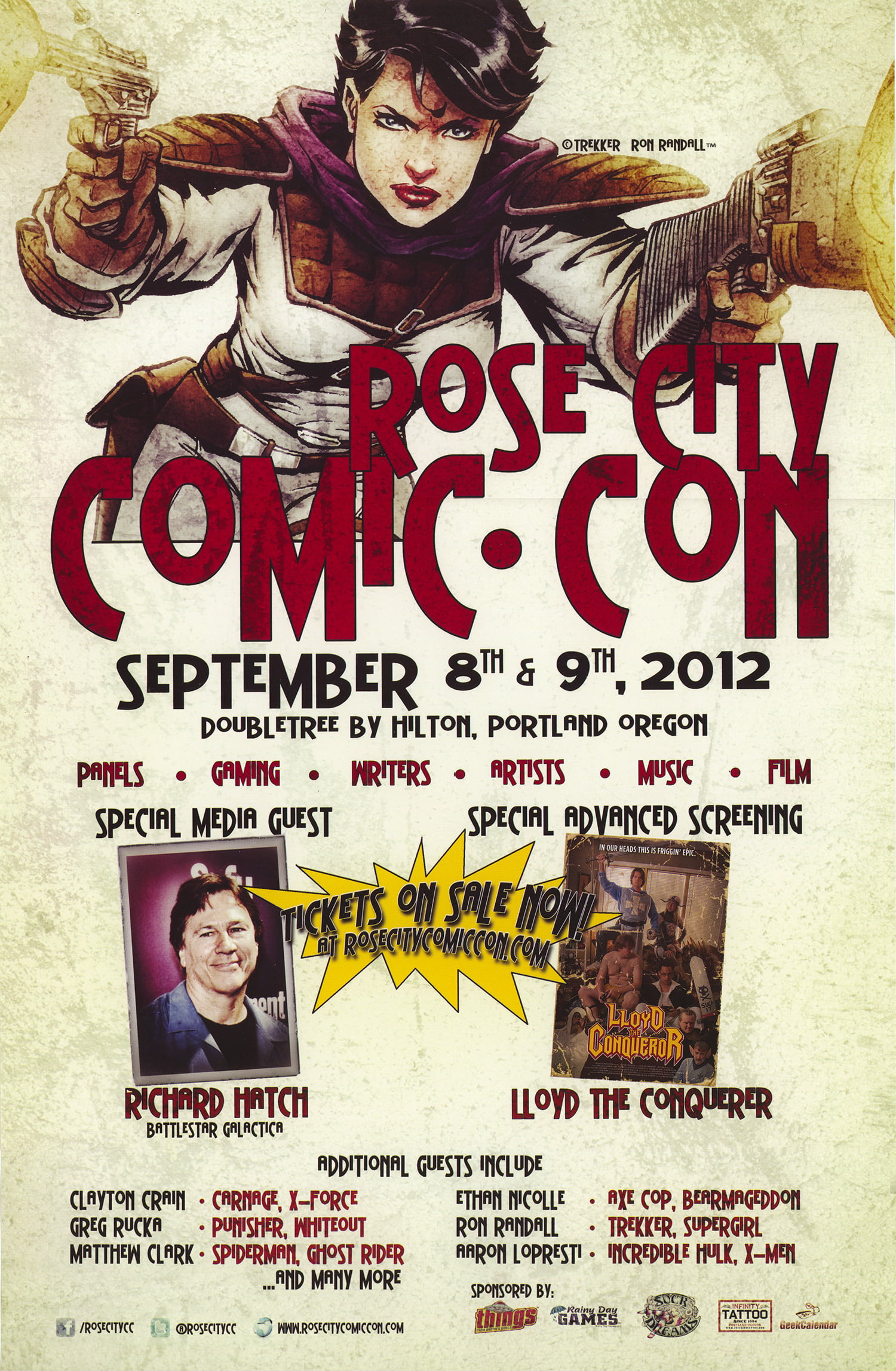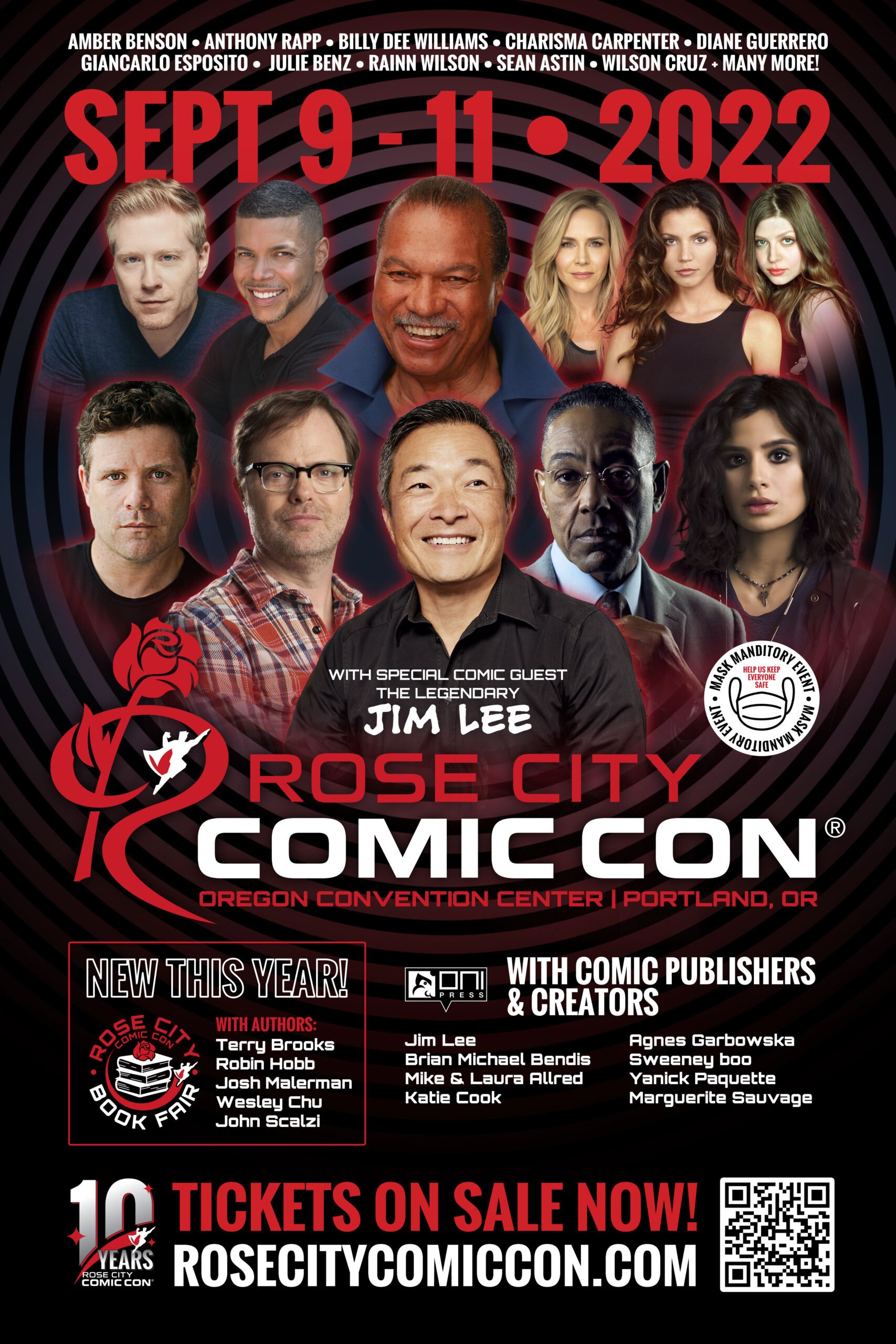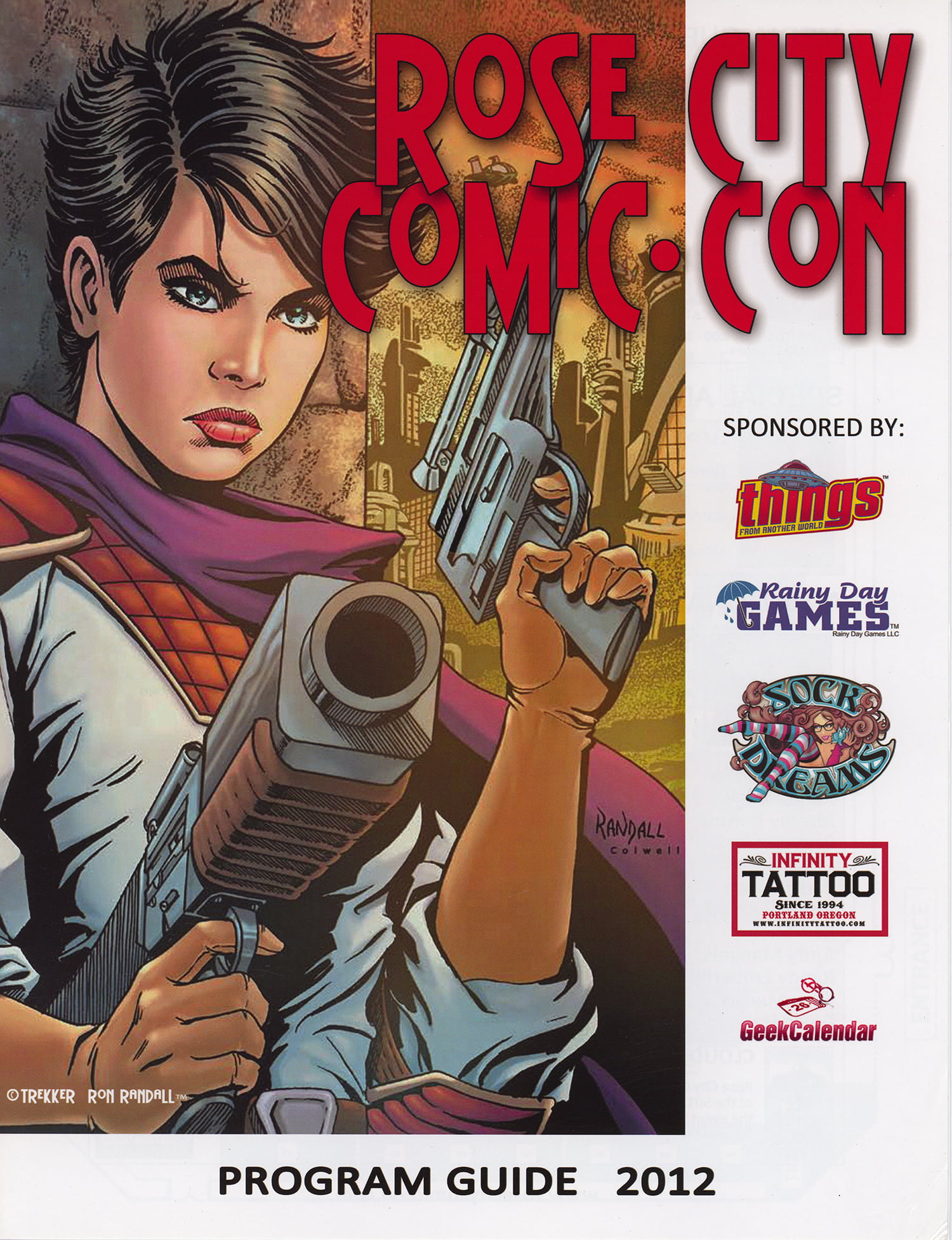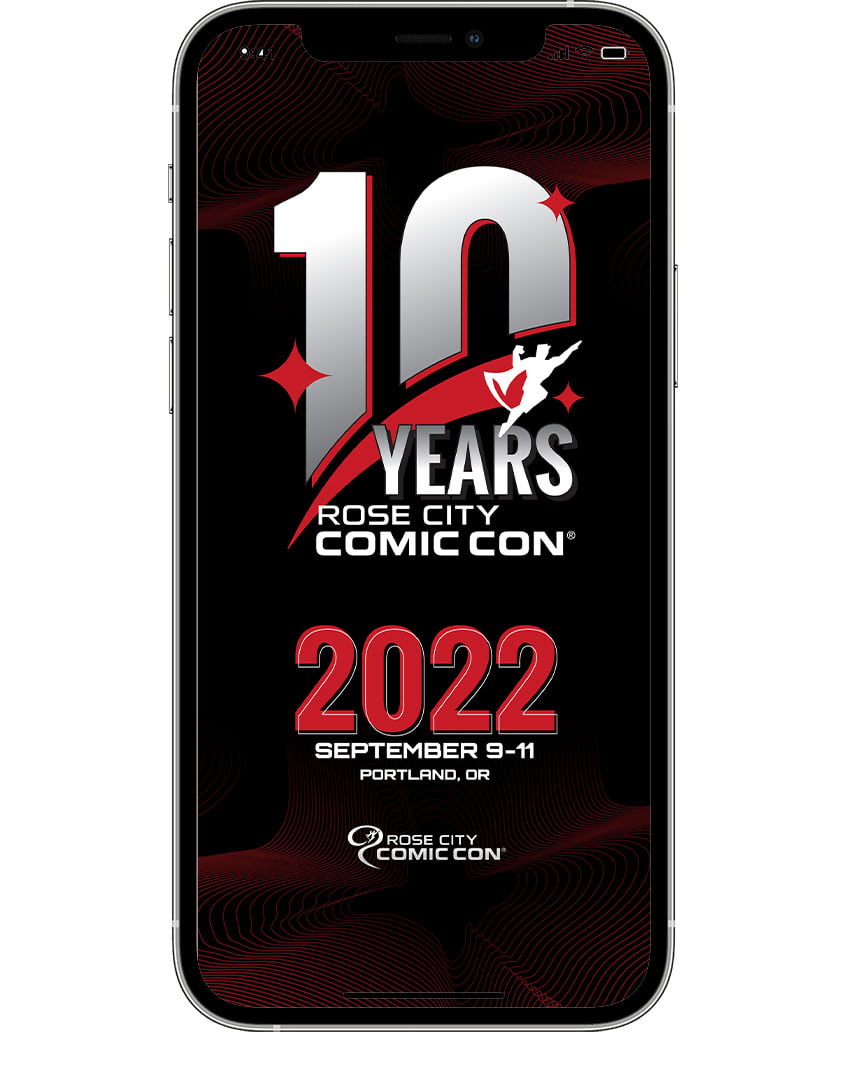 Throwback Questions with Ron Randall
What was one of your favorite memories from the first RCCC in 2012?
In that first year, Trekker was chosen to advertise the convention on the flyers, brochures, and program book! I have lovingly referred to RCCC 2012 as "Trekkercon" ever since 🙂
What's a favorite memory of yours from a more recent RCCC?
A few years ago, Katee Sackhoff was a guest at the show. I had long felt that she would be perfect to play Mercy [from Trekker] in a TV series. A pair of lovely friends got her to sign a photo for me, personalized to say, "To Ron, I'm your Trekker!" Then they and my wife convinced me to go up and introduce myself. Which I did. She was delightful, engaging, and completely charming. A wonderful memory.
What or who do you hope to see at RCCC in the future?
For me, the show is always primarily about meeting and interacting with the fans and readers. So my first hope is that RCCC will continue to keep doing its wonderful job of making that possible. That, and one day seeing a long line of readers waiting to have me sign their copies of Trekker, of course!
TABLETOP GAMING WITH RAINY DAY GAMES
In 2012 our Tabletop Gaming partner was Rainy Day Games — and still is! They've always been our friendly local game store. Did you know they've been in business since 1998?
Throwback Questions with Adam from Rainy Day Games
What was one of your favorite memories from the first RCCC in 2012?
This may seem a little odd, but one of my absolute favorite memories from the first Rose City Comic Con was having people posted at the door counting attendees as they entered and left to make sure the convention was following fire code for occupancy. Seeing the line of people waiting to get in, and how many people turned out for that first show, was amazing! As a lifelong comic fan it was great to see how excited people were for a real comic convention in Portland and to know from the start it was something that was going to become a staple in our area.
What's a favorite memory of yours from a more recent RCCC?
Seeing everyone come out for the first time after Covid hit. It really made it clear that things were finally starting to get back to a more normal state after the pandemic.
What do you hope to see at RCCC in the future (Who or what do you hope to see there, dream future guest, dream future panel, dreams for yourself there)
I'd love to see the Critical Role crew come out for signings and or some panels!
CREATOR GUESTS
Some of our Year One Artist Alley guests will be appearing at the 2022 event, so be sure to stop by their tables and say hi!
2012 Guest List:
Aaron Lopresti ♦
Ethan Nicolle
Natalie Nourigat
Angel Mangels
Gary Martin
Paul Guinan & Anina Bennett
Anthony Wynn
Grace Allison
Pete Woods
Ben Dewey
Greg Rucka
Randy Emberlin ♦
Brandon Jerwa
James Ninness
Brandon Seifert
Jeremy Barlow
Rich Ellis
Cat Farris
Joe Pezzula
Ron Chan
David Hahn
Jonathan Case
Ron Randall ♦
Eric Trautmann
Karl Kesel ♦
Steve Lieber
Erika Moen
Matthew Clark ♦
Val Mayerik
Rebecca Woods
Throwback Questions with Randy Emberlin
What was one of your favorite memories from the first RCCC in 2012?
I remember that the first RCCC show was being held at the Double Tree Inn near the Max line!  I was sitting next to my fellow comic book artists Gary Martin and Ron Randall and we were very excited when we heard that the attendance was so large that the Fire Dept. had started to limit the number of attendees into the building! It was a very successful show for us all!
What do you hope to see at RCCC in the future?
I would love to see more of the same! And since I live in Portland, I would like to continue to be a perennial guest of the show!
EXHIBITORS
Over 10 years, we've had an incredible array of exhibitors in our Exhibit Hall. Some of our first exhibitors from 2012 will be exhibiting in 2022 as well so make sure to stop by and show them some love!
2012 Exhibitor List:
215 Ink
A Wave Blue World
Amanda Meyers
Amlowi
Anchor Down Comics
Anime Haus
Battlestar Galactica Fan Club
Ben "1314″ Hansen
Blue Moon Books ♦
Bricker-Down Production
Bricks & MiniFigs ♦
Bridge City Comics
Broag Academy
Charlie Donkin Art ♦
Chronicles of the Nerds
Claire Hummel
Cloud City Garrison & Kashyyyk Base
Comic Safari
Cosmic Monkey Comics ♦
Cosmopolis Press
Crazed Pixel Comics
DesuDesu De Studio
Devon Devereaux Illustrations
Dorado Films, Inc
Evil Redneck
Floating Dock Comics
Forgotten Dialect Publishing
Gary Martin
Geek In The City Radio
Grace City Comics
Hudnut Art
I Like Comics ♦
ID Studios
Igunana Comics
Infinity Tattoo
Joseph Boquiren
Keyleaf Comics – The first EVER exhibitor of RCCC!
Lloyd The Conqueror
Mark Monlux
Matt's Cavalcade of Comics ♦
CELEBRITY GUESTS
Nowadays there is no shortage of celebrity guests at Rose City Comic Con but back in the day we only had a few!
2012 Guest List:
Noah Hathaway
Richard Hatch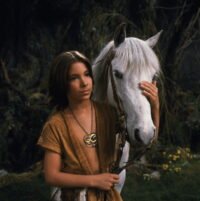 2022 Guest List:

Amber Benson
Anthony Rapp
Billy Dee Williams
Charisma Carpenter
Christopher Sabat
Diane Guerrero
Elijah Wood
Giancarlo Esposito
Jim Cummings
Julie Benz
Kel Mitchell
Khary Payton
FAN HISTORY PHOTO GALLERY
And of course, where would we be without 10 years of fan memories? We invite you to upload your photos of past Rose City Comic Cons to Instagram, using the hashtag

#10YearsWithRCCC

and they'll appear in our gallery wall below. Ah, memories…