Featured image photo by @heroinitiative on Instagram
Rose City Comic Con, the beloved annual celebration of all things comics, cosplay, and geekery, had another fantastic year of giving back to the comic book community. For the second consecutive year, the convention had the honor of raising funds for The Hero Initiative, a non-profit organization that provides financial assistance to comic book creators in need. This charitable effort took center stage at Dark Horse Comics Presents Drink & Draw, the official Rose City Comic Con after party, at Spirit of '77 on September 22, 2023 at 8:00 PM. The event sold out yet again and hosted 250 excited artists, creators, writers, fans, publishers, and sponsors for good drinks, good art, and good times!
A total of $3,450 was raised for the Hero Initiative, $1,725 for the auction lots and a $1,725 match from LeftField Media, the company who runs Rose City Comic Con.
The event was hosted by Zack Davisson, writer, lecturer, and translator with many titles available from Dark Horse Comics, and the presenting sponsor was Dark Horse Comics. Zack did an incredible and charismatic job keeping the evening rolling through 4 rounds of drawing and 5 charity art auctions. Special guest creators of the evening included:
Gene Ha (Wonder Woman Historia, Mae)
Lukas Ketner (Count Crowley, Kill the Minotaur)
Eric Powell (The Goon, Hillbilly)
Megan Hutchison (Rockstars, Betty: The Final Girl)
Kelly Sue DeConnick (Wonder Woman Historia, Bitch Planet)
The event included 4 rounds of drawing over the night, with prompts including fan favorites like Amazon, Stranger Things, Eric Powell's "Round Roulette" where he selected a random noun and adjective to theme the round, and Sisterhood. Fans had only 15 minutes to quickly draw their artistic interpretations of the round themes, and our guest creators again acted as the judge for the round, selecting their favorite piece and awarding a packed prize bag to the winner. Prize bags included hundreds of dollars worth of items such as comics/graphics novels from Dark Horse, Wonder Woman toys from McFarlane Toys, goodies from The Hero Initiative, premium OLO marker sets, and a Wacom tablet from Wacom.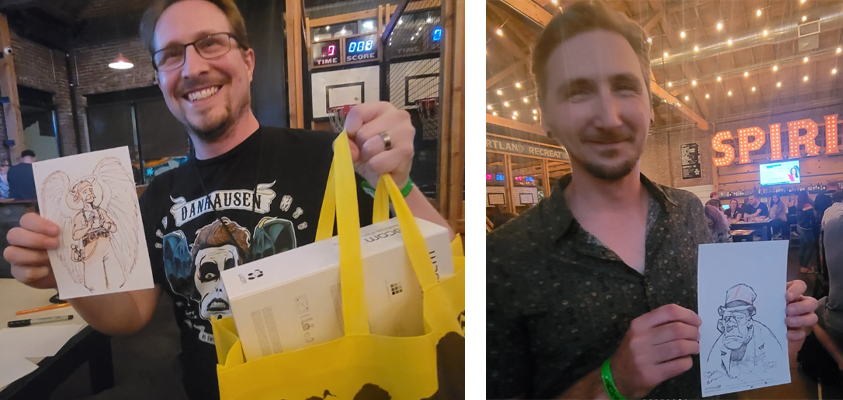 Photo by @heroinitiative on Instagram
5 talented artists donated original art to the auction at the end of the night to benefit The Hero Initiative.  Several original art pieces and collectible items made it to the auction and included original art of Wonder Woman by Gene Ha, Death from Sandman by Megan Hutchison, a Demogorgon from Stranger Things by Lukas Ketner, The Goon signed books and a screen-print, and a signed retailer variant of Wonder Woman Historia and signed cuffs.
Be on the look out for tickets to go on sale to the next Drink & Draw, happening during next year's Rose City Comic Con, September 6-8, 2024 at the Oregon Convention Center in Portland, OR. We hope to see you there and continue to do good in the world of comics.